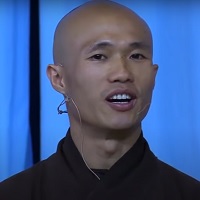 15-Minute Qigong Daily Routine to Strengthen Health and Heal Sickness | Thich Man Tue
15-Minute Qigong Daily Routine to Strengthen Health and Heal Sickness | Thich Man Tue
In this video, Vietnamese Master Thich Man Tue guides us through these simple and powerful exercises — the Shaolin Qigong 15-Minute Daily Routine. Baduanjin is a major influence on world medicine. Practicing these Qigong exercises will help you balance energies, heal and prevent disease, and make your body/mind happy and healthy!
There are 8 movements of this Qigong routine:
1. Horse Stance Open Arms
2. Drawing The Arrow
3. Separating Heaven and Earth, Twisting Body
4. Horse Stance Washing Body
5. Big Bear Turning To Circle
6. Body Curving, Looking Up And Down
7. Clenching The Fist
8. Clicking Heels, Resting Lower Back.
Thich Man Tue (Br Insight) was born in Central Vietnam in 1985. He was ordained as a Vietnamese Novice Buddhist Monk in 2002 at the root temple of Plum Village, Chùa Từ Hiếu in Vietnam. He came to Plum Village, France in 2006 and received full Bhikshu ordination on December 20, 2006. He practiced and taught in Deer Park Monastery, California from 2008-17, receiving Lamp from Thay to become a Dharma Teacher in 2012 at Deer Park Monastery. He enjoys practicing Meditation and Qigong Daily and has been offering Qigong to friends who come to retreats at Deer Park Monastery and Blue Cliff Monastery, where he currently resides.
He would like to offer lessons about Qigong Meditation practices and the Daily Qigong Routine to everyone who loves to practice and experience the Peace, Relaxing, and Healing of body and mind. You can support his Channel by Donating here.