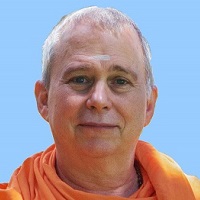 Bhagavad Gita Class (65): Chapter 8 Verses 23-28 | Swami Tadatmananda
Bhagavad Gita Class (65): Chapter 8 Verses 23-28 | Swami Tadatmananda
"O best of the Bhäratas, I shall now explain to you the different times at which, passing away from this world, one does or does not come back. The unalloyed devotees of the Supreme Lord who are totally surrendered souls do not care when they leave their bodies or by what method…." Bhagavad Gita: Chapter 8, Verse 23.
Why is the Bhagavad Gita the most widely studied Hindu scripture? It presents the profound spiritual wisdom of ancient rishis in a context we can all relate to – the battlefield of day-to-day life.
Swami Tadatmananda is a traditionally-trained teacher of Advaita Vedanta, meditation, and Sanskrit.