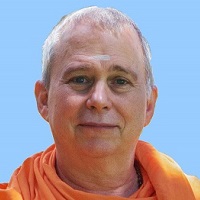 Bhagavad Gita Class (37): Chapter 4 Verses 31-35 | Swami Tadatmananda
Bhagavad Gita Class (37): Chapter 4 Verses 31-35 | Swami Tadatmananda
"Those who know the secret of sacrifice, and engaging in it, partake of its remnants that are like nectar, advance toward the Absolute Truth. O best of the Kurus, those who perform no sacrifice find no happiness either in this world or the next." (Chapter 4, Verse 31).
Why is the Bhagavad Gita the most widely studied Hindu scripture? It presents the profound spiritual wisdom of ancient rishis in a context we can all relate to – the battlefield of day-to-day life.
Swami Tadatmananda is a traditionally-trained teacher of Advaita Vedanta, meditation, and Sanskrit.