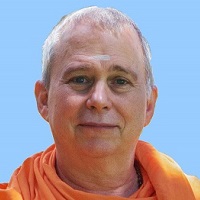 Bhagavad Gita Class (39): Chapter 4 Verses 39-42 | Swami Tadatmananda
Bhagavad Gita Class (39): Chapter 4 Verses 39-42 | Swami Tadatmananda
"Those whose faith is deep and who have practiced controlling their mind and senses attain divine knowledge. Through such transcendental knowledge, they quickly attain everlasting supreme peace." (Chapter 4, Verse 39).
Why is the Bhagavad Gita the most widely studied Hindu scripture? It presents the profound spiritual wisdom of ancient rishis in a context we can all relate to – the battlefield of day-to-day life.
Swami Tadatmananda is a traditionally-trained teacher of Advaita Vedanta, meditation, and Sanskrit.