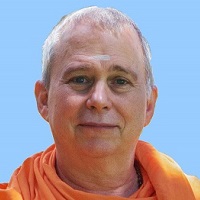 Bhagavad Gita Class (59): Chapter 7 Verses 18-22 | Swami Tadatmananda
Bhagavad Gita Class (59): Chapter 7 Verses 18-22 | Swami Tadatmananda
"All those who are devoted to Me are indeed noble. But those in knowledge, who are of steadfast mind, whose intellect is merged in Me, and who have made Me alone as their supreme goal, I consider as My very self…" Bhagavad Gita: Chapter 7, Verse 18.
Why is the Bhagavad Gita the most widely studied Hindu scripture? It presents the profound spiritual wisdom of ancient rishis in a context we can all relate to – the battlefield of day-to-day life.
Swami Tadatmananda is a traditionally-trained teacher of Advaita Vedanta, meditation, and Sanskrit.