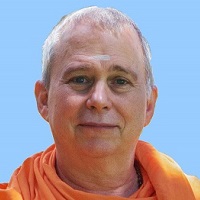 Bhagavad Gita Class (60): Chapter 7 Verses 23-30 | Swami Tadatmananda
Bhagavad Gita Class (60): Chapter 7 Verses 23-30 | Swami Tadatmananda
"The less intelligent think that I, the Supreme Lord Shree Krishna, was formless earlier and have now assumed this personality. They do not understand the imperishable exalted nature of My personal form…" Bhagavad Gita: Chapter 7, Verse 23.
Why is the Bhagavad Gita the most widely studied Hindu scripture? It presents the profound spiritual wisdom of ancient rishis in a context we can all relate to – the battlefield of day-to-day life.
Swami Tadatmananda is a traditionally-trained teacher of Advaita Vedanta, meditation, and Sanskrit.