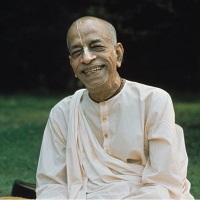 Hare Krishna! The Mantra, The Movement and The Swami Who Started It All
Hare Krishna! The Mantra, The Movement and The Swami Who Started It All
If someone told you the story, you wouldn't believe it. Here he is. He's 70 years old. He has no money; he has no contacts. He has none of the things that make for success. He's starting an effort, and it turns into an international movement.
Hare Krishna! is a documentary on the life of Srila Prabhupada – the 70-year-old Indian Swami who arrived in America without support or money in the turbulent 1960s. It explores how he ignited the worldwide cultural revolution of spiritual consciousness, known as the Hare Krishna movement.
His Divine Grace A. C. Bhaktivedanta Swami Srila Prabhupada is the founder of the International Society for Krishna Consciousness (ISKCON). ISKCON is popularly known as the "Hare Krishna" movement, due to its members' widespread practice of chanting the Hare Krishna mantra in public. Srila Prabhupada intended ISKCON to facilitate the association and education of bhakti-yoga practitioners, and his followers continue to spread that mission.
Swami Prabhupada (1896-1977) is widely regarded as the foremost Vedic scholar, translator, and teacher of the modern era. He is especially respected as the world's most prominent contemporary authority on bhakti-yoga, devotional service to the Supreme Person, Krishna, as taught by the ancient Vedic writings of India. He is also the founder-acharya of the International Society for Krishna Consciousness.
Srila Prabhupada, as he's known to his followers, translated and commented on over eighty volumes of the Vedas' most important sacred bhakti texts, including the Bhagavad-gita—a concise handbook for understanding the purpose and goal of human life—and the multi-volume Srimad-Bhagavatam—an epic biography of Krishna, Krishna's avatars, and His many devotees throughout the history of the universe.