Spiritual Growth Monthly January 2019: "Awaken The Guru Within: How To Create Your Signature Teaching, Digital Product, Or Live Experience That Transforms The Planet And Generates Income Forever!
This month on SGM, we'll explore "Awaken The Guru Within: How to Master Your Art And Make A Wonderful Income Sharing Your Unique Gifts With The World!" with Matthew Clarkson, Founder of The Mind-Body Training Company.
Click on the links below to read and/or listen to this month's Weekly Messages: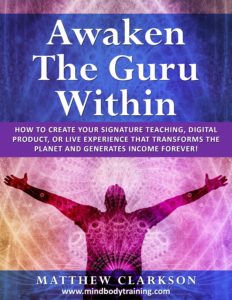 WEEK 1: You're Already A Guru! – Why The World Needs YOUR Teaching!

WEEK 2: Receiving Inspiration for Your Signature Teaching
WEEK 3: Getting Clear On Your Audience, Big Insight & Working Title!
WEEK 4: Allowing Your Teaching To Write Itself & Start Generating Income!